An LGBTQ Welcoming Congregation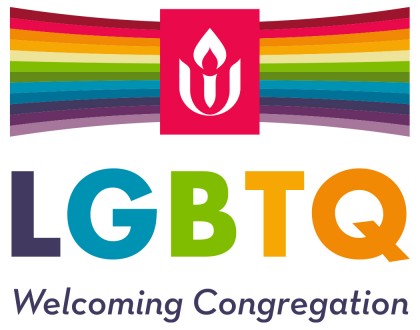 We are people of many genders, sexualities, and identities. As Unitarian Universalists, we honor the worth and dignity of all people, justice in our relations, and the free and responsible search for truth and meaning. All of who we are is sacred, and we aspire to be a community wherein all can express ourselves fully and learn from one another.
We are a Welcoming Congregation
UUCPA was designated a Welcoming Congregation by the Unitarian Universalist Association (UUA) in 1998. The UUA started the Welcoming Congregation program in 1990 to address then-widespread homophobia and exclusion of lesbian and gay people in UU spaces.
UUCPA takes steps to renew itself as a Welcoming Congregation annually, most recently in April 2021, in keeping with the Five Practices of Welcoming Renewal outlined by the UUA. These practices establish a baseline for UU churches to keep growing with their LGBTQ+ communities and respond to the evolving call for justice on behalf of transgender/non-binary, intersex, bisexual, and other LGBTQ+ people.
Welcoming In Action
We strive to call each other to greater understanding and sympathy, diverse in our shared humanity, through our religious life together. Each of us always has more to learn.
At UUCPA, we:
Cultivate justice, fairness, and mutual recognition in our organizational life.

Embrace affirmation and nondiscrimination in our church by-laws and other official documents affecting all dimensions of congregational life, including membership, hiring practices, and the calling of religious professionals. Our congregation has been blessed by numerous LGBTQ+ staff, both past and present.
Honor the beauty and diversity of our committed relationships and affirm displays of care and affection without regard to gender or sexual orientation.
Work to center a diversity of voices at the heart of our congregational life and nurture dialogue toward deeper trust and sharing.

Lift up and celebrate the perspectives and truths of our LGBTQ+ community through our Sunday worship services.

Have explored in our Sunday services such topics as supporting transgender and non-binary youth; radical welcome and overcoming exclusion; lessons from the Stonewall Rebellion; bisexuality and the importance of seeing beyond received binaries and categories to the lived richness of human lives; and the spiritual significance of drag.

Observe important dates and anniversaries in LGBTQ+ history throughout the year, and honor rites of passage in our community.

Joyfully give congregational and ministerial support for weddings, unions and memorial services for LGBTQ+ people and for celebrations of all families.
Honor observances such as National Black HIV/AIDS Awareness Day, International Transgender Day of Visibility, the Stonewall Riots Anniversary, National Coming Out Day, Transgender Day of Remembrance, and World AIDS Day.

Learn continuously about the many facets of human identity through ongoing religious education for adults and youth/children.

Infuse LGBTQ+ Welcome throughout our ongoing religious education offerings for children and youth.
Offer Our Whole Lives (OWL), a radically-inclusive, comprehensive lifespan sexuality education program for grades K–1, 4–6, 7–9, and high school. Such is our commitment that we successfully offered OWL to 7th–9th graders during the COVID-19 pandemic in an outdoor and socially-distanced manner.
Have offered such adult religious education courses as the "Transgender Inclusion In Congregations" series developed by the Transforming Hearts Collective.

Support local organizations and community efforts that honor and serve LGBTQ+ people.

Raise funds and awareness for Outlet, a local organization that empowers LGBTQ+ youth, as one of our monthly Justice Partners.

Advocate for justice, in solidarity with LGBTQ+ people, both locally and beyond.

March with the UUCPA banner at San Jose Pride.
Responded publicly when the rainbow Pride flag was stolen from another local church in 2019.
Actively fought against the discriminatory Proposition 8 in California and, before that, the Knight Amendment.
Welcoming Congregation News